Home Tours
Designer Nina Freudenberger's Malibu Beach Getaway
5/26/2019
"No really, interior design is so challenging, there are so many moving parts, that something ALWAYS goes wrong, it is actually about how you deal with it", says Nina Freudenberger, an author of the best selling book (soon to be two!) 'Surf Shack: Laid-Back Living by the Water', interior designer, and mother who seems to have perfected the art of laid-back living. We spent the day with Nina at her Malibu vacation home - which is actually a converted double wide. We chatted about owning her own business, what it was like moving from NYC to LA, and her best tips on layering different styles in a home for an effortless look.
Shop Nina's Home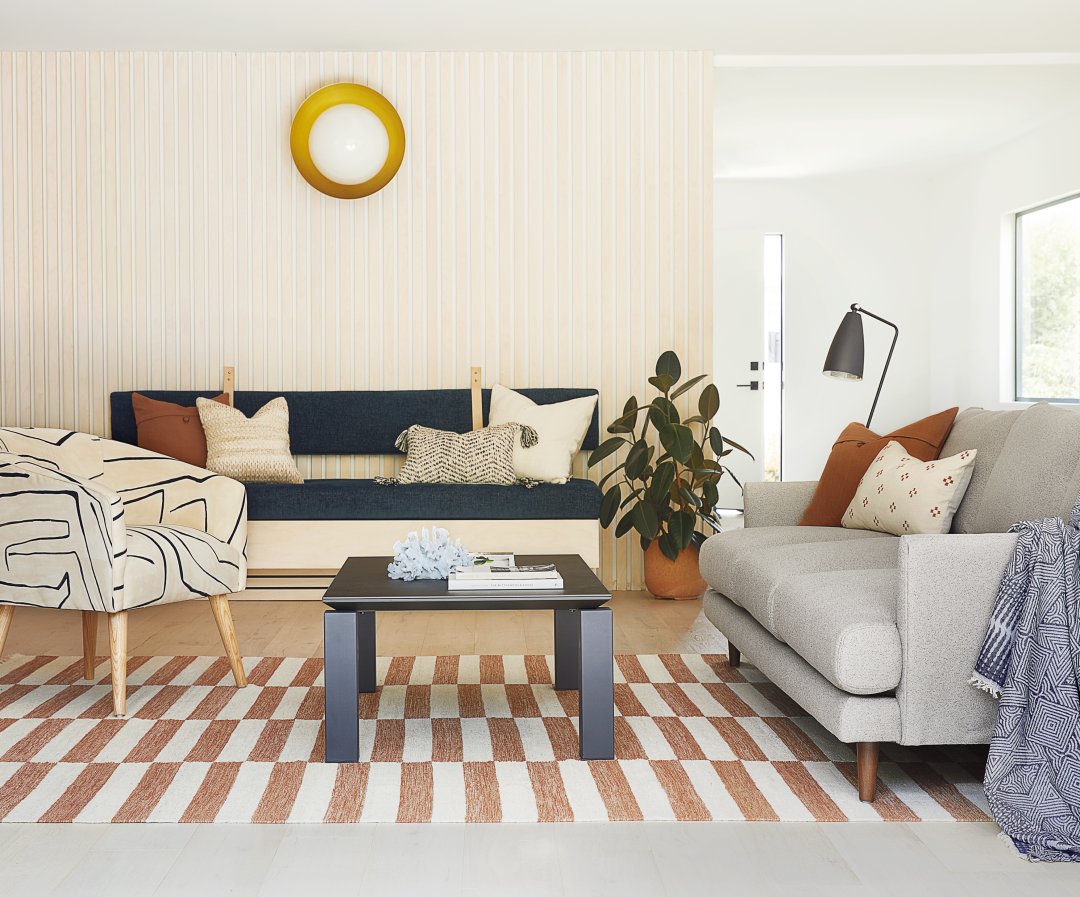 You own and operate your own design firm and are also an author. Tell us how you got started.
I went to Rhode Island School of Design for architecture, it was an incredibly intense 5-year program. Right after school I was recruited to work at a design firm in NYC, and fell in love with interior design. I loved the personal interaction with clients and the fast-paced timeline - very different than working at a big architecture firm on large-scale projects which take years to complete. After gaining some experience there, I decided I wanted to have a firm of my own. It was definitely a risky move but I think I was so young, I didn't even realize what a risk it REALLY was! I had a few design projects, and after things started really picking up I decided I wanted to open up another part of my business, the retail portion. I had my small home decor store on Elizabeth Street in NYC for 8 years - it was a wonderful experience. It grew my client base and I expanded my understanding into interior design/sourcing and the sales aspect even further. I continue to do interior design in the West Coast for private clients and I absolutely love what I do. Two years ago I published my first design book and my second will be out this fall, October 22, 2019
What inspired you to write your book 'Surf Shack: Laid-Back Living by the water'?
When I moved from NYC to LA - I was in for SUCH a culture shock. I was blown away by the entirely different lifestyle out here, the very different work/life relationship and the general vibe. Interior design is very different here, stylistically than the east coast. I thought if I found it so fascinating, then others might find the laid-back/authentic living approach interesting as well.
Tell us more about your next book.
Bibliostyle: How We Live at Home with Books will be my second book, and we (myself, the photographer and writer) went to thirty-five homes in fifteen cities and eight countries around the world. The book is a glimpse into the homes of authors, creatives, designers, book-shop owners, all of whom live with their beautiful book collections. It came about by thinking of the most important elements in a home - books/book collections and private libraries. They tell such a full story about the homeowner and is the most emotional lens (in my opinion) through which to look at home.
What mantra do you live by?
Oh, I really should have one, but I don't! I might be the only person in LA without a personal mantra.
Where do you look for inspiration when you are feeling uninspired?
That is actually what really pushed me to book-making. I find Pinterest sometimes very overwhelming and I see so many people just re-pinning the same images. Heading out to travel the world to find new homes to obsess over was a dream come true for me and I hope that shows in the books I create.
You tend to lean to fairly neutral color palettes in your designs. What is your advice for someone wanting to do the same?
Personally, I don't think you can do too much neutral. You can always add color (taking away is harder if you cover your sofa in orange!) But if you are doing neutral you have to make sure that the shapes of the furniture are interesting enough to be able to carry a simple neutral, and that there are enough tones happening.
What advice would you give to new designers who are just getting started?
Work hard, think big-picture, and take risks! There are a lot of designers out there but we each have our own individual style that needs to get out there. If it feels risky - that's good - it means it's original.
What is one of the hardest elements to your job?
Finding time for creative work. As a small business owner, I have a lot of logistics and daily operations that i have to manage which sometimes makes it hard to prioritize design and find that quiet space to do so. Both things are important - making sure the business is running at an optimal level and also making sure the creative flow is constantly there.
What is one of your favorite ways to add texture and depth to your designs?
Layering periods/styles is the best way. Add the modern to the vintage. Or the other way around! Everything should feel loved but not too precious.
Do you have any designs that went wrong or didn't turn out how you expected? If so, how did you deal with it?
Literally like every single day! No really, interior design is so challenging, there are so many moving parts, that something ALWAYS goes wrong. It is actually about how you deal with it. You have to be really fast, thoughtful and proactive in getting things fixed and taken care of so that everyone stays happy and the project stays on track.
What is next for you and your business?
I don't know but I'm very excited to see! I would love to continue to work on books, have a podcast in the works, and expand my furniture line. I love my design clients and hope to keep getting projects and homes that inspire me!
| | |
| --- | --- |
| | |